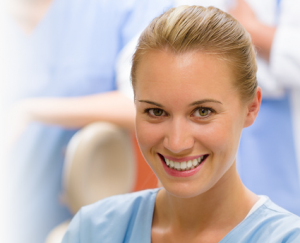 The dental industry is growing rapidly. Technology is making oral care more affordable, insurance changes are allowing more people to see a dentist, and more people are becoming aware of the need for proper hygiene. This is really good news for dentists around Michigan, Ohio and the rest of the country, but this boom has also brought along the staffing concerns that come with rapid growth. 
It can be difficult in an ideal marketplace to find a great team to help you build your dental practice, but with an influx of competition from other dentists it can be a real hindrance. Let's go over three dental staffing trends happening right now. 
Office Associates and Dental Assistants 
Key Question to Ask: How will you retain your staff and reduce turnover? 
These are the fastest growing job categories in the dental industry. Your staff is the first impression of your office. They take appointments and greet patients when they arrive. Then your dental assistants may be the ones who call them back to the exam room and actually put them in the chair that causes so many stress. These roles are critical to your success and the people to fill them are getting harder to find. 
You want a friendly, well-trained staff with low turnover, but so does everyone else. Hiring office associates and even dentals assistants isn't hard to do, but it's keeping them that seems to be the issue. By figuring out how to retain your staff you will be ready for the growing needs of dental staffing. 
Dental Hygienist 
Key Question to Ask: What does your practice offer that others don't? 
Your hygienists are most likely the backbone of your practice. If you have a full schedule of appointments you rely on your dental hygienist to take care of the routine tasks of a normal checkup. This leaves you time to concentrate on larger and more complex procedures. 
This is one of the fastest growing categories in the industry. The need for hygienists is going up, and so are the open positions. With this being a great career opportunity with so many practices in need potential employees are taking their time to choose a good fit. Whether that be a great work environment or room for growth they want to know what comes along with the decent paycheck. 
Lost Patients 
Key Question to Ask: Does your practice have enough office and hygiene staff to properly handle the client load? 
With the growing number of dental practices fighting over the best associates it can leave some understaffed. If a patient hasn't been coming long they may pick up on the frantic, stressed, and overworked people that make up your staff. This may lead them to someone who is a little better equipped to make them comfortable. 
Make your dental practice ready to stand up to the changing workplace without turnover and losing clients with help from Strategic Practice Solutions.