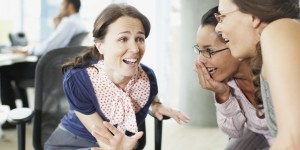 As much as we would like to avoid conflict in our lives, sometimes it is just inevitable. One of the most common places for this to happen is in the workplace. When people work closely together day in and day out differences in personality, work habits, and opinion can create office drama.
Determine the Cause
As a boss you are most likely going to find out about any office issue after it has already escalated. Sometimes it's a matter of 'he said, she said' and you have to use your best judgement to determine the root cause of the problem.
With that being said these are the most common causes for office drama. Avoid these things for a happier, drama free dental office workplace.
Unequal Work Load
Tensions will often flair if you have someone in the office that isn't pulling their weight. This usually will go on for a while until the overworked office personnel get upset that you haven't done anything about it.
In this situation you might have passive aggressive comments or arguments. If you don't rectify the situation you might have your star office person get so upset that they start slacking off in protest.
Not Having the Tools to Do the Job
This one is tricky. Everyone that runs an office usually doesn't think twice about the equipment their staff is using. Of course they have the tools they need, otherwise you wouldn't be open for business, right?
Not necessarily.
Nothing will send your office personnel into a rage like a printer that jams more than it prints. And what about those office chairs? If the chair is out of hydraulic fluid and won't stay elevated then you will most certainly will have unhappy employees.
Not Feeling Appreciated
We know you're busy. Your main focus is taking care of your patients. However, taking the time to say good morning, thank you, and good job will go farther than you think in avoiding office drama.  When employees are happy with their job, they will work harder, and take better care of the public.
If your office personnel think that you are not approachable then they won't bring any problems to your attention until they absolutely have to. Meaning that something that could have been avoided is now hindering your business.
When Repercussions Aren't Consistent 
Being a boss is a lot like being a parent. You have to have your rules set and expectations in place to avoid office drama.  There is nothing worse than having someone use excuses like 'they didn't know' or 'Julia does it all the time'.
Your employees have to be clear on what you expect. Don't let someone slide. If you do you run the risk of angering some and alienating others. Or worse, to be considered a boss that is 'playing favorites'. Let Strategic Practice Solutions help you create a well-trained and friendly staff.
Click below to request your FREE Dental Practice Assessment today!